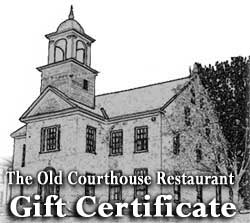 Are you looking for the right way to thank that special person in your life? Or celebrate that special occasion?
Consider a gift certificate to The Old Courthouse, where your guests will relax and enjoy a carefully prepared meal from our chefs.
Gift Certificates also have the versatility of letting your guests come for lunch, dinner, or our Sunday buffet brunch.
So, the next time you are struggling with what to give that special coach or co-worker, a gift certificate to The Old Courthouse will show them just how much they are appreciated.
Gift Certificates may be purchased at The Old Courthouse during business hours.
You may also call and order them over the phone (603) 863-8360 or use our contact form.